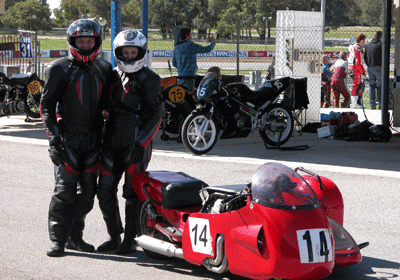 My name is Nichola Caddy, this is me and my Dad...
Dad raced sidecars at Claremont Speedway in the fifties and in the late sixties he moved to road racing, he raced up until he passed away in at the age of 79, at that time I was his passenger. Experiencing a sport such as a sidecar racing with my father was amazing, we had to completely trust each other.
You are probably wondering why I am telling you this?
I was encouraged by my business mentor Roger Hamilton to share my passion for racing with my clients and to link what I learned from my father both from racing and as a businessman, back to my acumen as a business woman. Dad was a serial entrepreneur. On his death certificate, we put entrepreneur as his profession. When we were kids, we would go to church on Sunday and after we would sit around the kitchen table for hours talking about business. Find out more on my personal website www.nicholacaddy.com.au